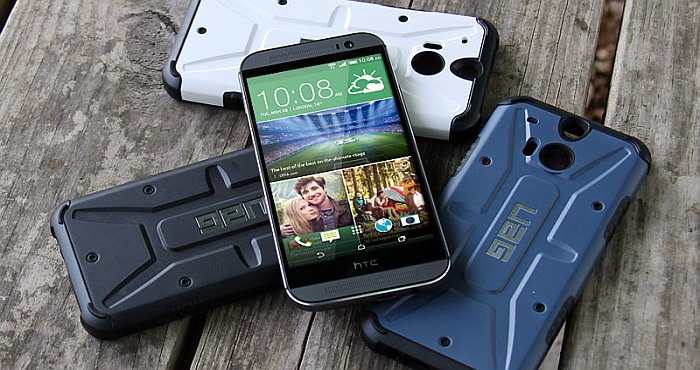 When it comes to building quality, Apple has always been in its own class. HTC One has also made efforts to step into this class whereby we have the HTC One M8 taking advancements further. This is a cutting edge android device with brushed aluminum beauty. Keeping it naked will mean that you will impose your phone to very many risks.
People will of course ask for it, and take a further step of enjoying it for some minutes. The phone might also fall- unintentionally. To reduce the risks associated with poor handling of the phone, consider buying it one of the best HTC One M8 cases.
Urban Armor Gear Navigator Case
The UAG cases always impress with their industrial, futuristic, and angular looks. This case types are also used by space marine on their phones. The case has got a hard armor shell. This shell is also fitted with a soft core that assists in absorbing impact and shock. All its corners have got some reinforcement. They assist in stopping it from slipping off surfaces. Whereas the case looks heavy, you will be surprised to find its very light. All the cut-outs have been made precisely to ensure that here are no muffled audio or flash glare problems. There is a dark, black, orange, clear, blue, and white color models.
Griffin Reveal Case
The Griffin reveal case is a clear model of the HTC One M8 cases. This is a one-piece hard polycarbonate case that has got highlights and rubber bumper. All the cut-outs have been made precisely. This case is very thin (1.6mm) ensuring that is only adds a layer of protection on your phone without making it to look bigger and heavier. With it you will have got the best way to stop scratches from affecting you phone's beautiful body.
Pure Gear Dual-Tek Extreme Shock Case
Pure Gear case has been made specifically to ensure that no serious damages are inflicted on your HTC One M8 phone. The casing is not that sexy, and has got a dual-layer design that is classic. With its heavily reinforced corners, you are assured that it will soak up the risks associated with tumble. It also have got some panels on its sides that helps in aiding your grip, thus making sure that the phone is not dropped off easily. It is somewhat drab-looking and bulky.
Body Glove Shock-Suit Case
Body Glove Shock-Suit is a military grade casing that offer ultimate protection on your HTC One M8 phone during an instance of crisis. It has got a hard shell polycarbonate layer as well as another separate rubber outer layer that is shocked absorbent. You don't need to panic when the phone falls. With exception of the power button, there are covers for controls, and ports. A screen protector is provided specifically for this casing.
Supcase Unicorn Beetle Case
This is a really tough case for the HTC One M8 smartphone. With its distinctively easy-going price you will have got the ultimate protection for your phone. The combination of TPU and polycarbonate offers your phone with protection from the risks associated with falls and bumps. It also has got an in-built screen protector as the front cover. The power button is frosted and works with IR blaster.