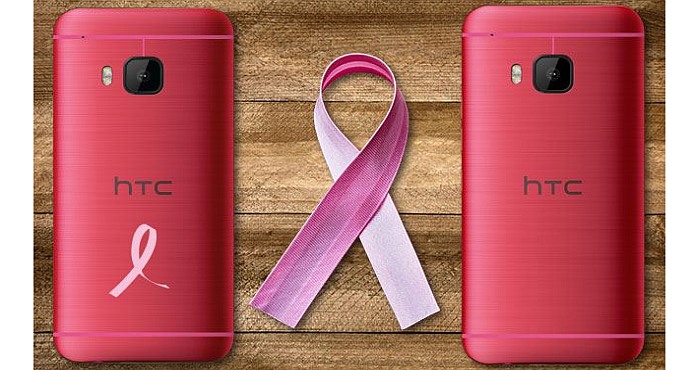 Manufacturers of mobile devices like to launch devices that are coated in purple, red, and swanky pink colors during holidays like Valentine Day's or other special occasions around the year. Such manufacturers also hold special sales during the same period in the year. In the meantime, Apple has recently turned their new "Rose Gold" paint job of iPhone 6s and iPhone 6s Plus to a main selling points of their mobile phone fashions.
Although, HTC is looking forward to prove something else when it comes to profit making. As per them, you can make awesome profits from fashionable hand devices and as well score easy publicity in the same process while standing a noble cause. HTC has entered the market with its pink HTC One M9 smartphone that has got a BCRF (Breast Cancer Reaserch Foundation) ribbon glued to its back plate (non-removable). The smartphone goes for $649 and is currently available in the United States.
If you are not pleased with the BCRF ribbon, you can consider opting for a device that doesn't have it in place. You will still get the standard pink five inch smartphone without ribbons on its rare, although the price tag will stay the same. Moreover, you will get complimentary $100 Google Play Store credit way apart from a gratis Dot View Ice case that is matching the device. This case typically costs $50- thus you understand the advantages that you will incur.
But how is the HTC company supporting breast cancer eradication in the US and other parts of the world? Great, despite the fact that it is raising awareness across the world with its customized devices, the HTC Company (Based in Taiwan) has donated $25,000 to the Breast Cancer Research Foundation. This is regardless of how many pink HTC One M9 mobile will be sold.
For a multi-million dollar corporation, that is not exactly a lot of money. Although, taking into account the global popularity of HTC gear that is fading, the stake is far much better that it had promised a slice of the revenue that would have otherwise been generated from the sales of the newest HTC One M9 pink devices. It should be remember that this comes when the world direly needs awareness about breast cancer and other types of cancers. This is a good sign from the company and a sure way that it will also motivate other multi-national companies to follow suit.